2020.12.14
Hanyu Yuzuru goes on the journey to win consecutive Olympic titles.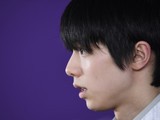 text by Toshimi Oriyama
photo by JMPA/Sunao Noto
Hanyu, who was injured in November, couldn't practice on the ice for a while. During that time, though he was trying to solidify the form and image of jumps on land, he seemed impatient.

"I was very worried about my physical strength. Figure skating is not something I can do on land, so I was worried if I could regain the feeling of jumping and skating on ice too. But in the first month after I got back on the ice I was able to practice as much as I could, and I feel ready to compete at the Olympics."

"Since I was injured, I haven't had any particular difficulties so far. I've done everything I had to without hesitation, and couldn't have done any more, so I'm not worried about anything, and there is no problem."

Many reporters and photographers were gathered at the press conference on this day. Viewing the crowd, Hanyu felt that "many people are looking at me through a lot of media". That national level of public attention could add huge pressure, but he was trying to catch everybody's eyes at the Pyeongchang Olympics rink when he skated for the first time in a long while.

In men's figure skating at that time, young skaters had been including a variety of quadruple jumps in their programs for several years. This ignited Hanyu's competitive nature, and he had also challenged himself with the quadruple lutz. However, because of the injury it ultimately caused, he was trying to think simply for the Pyeongchang Olympics, and concluded that "even if there aren't many types of quadruples, I can still win if I perform perfectly".