2020.08.10
Krzysztof Kamiński feels the difference of fans between Japan and Europe.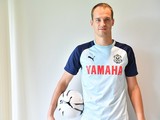 text by Yoichi Igawa
photo by Kenzaburo Matsuoka
"In Europe, the fans - and people in general - don't hold back if they are frustrated. Although Polish fans are not so aggressive, they speak up when they want to. Therefore, when a team loses or performs badly the players are criticised.

"But in Japan, many fans encourage the players all the time, even after bad results. The supporters of Jubilo must have had a lot of frustration due to our results and performances. We have, of course, heard boos from the stands sometimes, but most of them show their support as the 12th men. I really appreciate that."

But that sort of affectionate attitude could spoil the players. "Maybe, it could," he replied and continued speaking fast. He seems to be a person who likes to think and talk at the same time.

"Generally, I think Japanese players are mentally weaker than European players. In Europe, professional footballers are always under pressure from fans, the media, rivals, coaches and so on - both in a good way and a bad way. Because of that, they become more resilient in order to overcome the pressure and improve themselves. On the other hand, there is not such pressure in Japan. That could have a negative effect, such as spoiling the players, but the players can perform freely with less pressure. I think both are true and the players with weaker mentality need more support than criticism. So I don't think we can judge which fans are better.

"That could apply to the playing styles too. Japanese players tend to pass the ball when they could shoot, which sometimes attracts criticism. But if the receiver is in a better position, the decision is correct. And the fans enjoy attacking football based on passing and moving, so I think that is also fantastic."