2020.11.02
Simao Mate talks about the life in Japan. "It was a dream for my wife".
text by Yoichi Igawa
photo by Manabu Takahashi
Simao Mate interview■Part 1■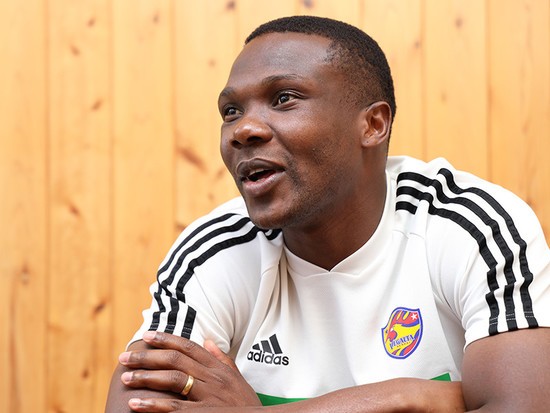 Simao Mate playing for J1 club Vegalta Sendai Thanks to his explosive physical strength and adhesive marking ability, Simao Mate became the talisman of Vegalta Sendai's backline in 2019. As his first season in the J1 League it took some time for him to adjust new surroundings, but after returning to the starting 11 early in the summer Vegalta won all of their J1 matches in June and Simao was selected as the league's monthly MVP. Since then, he has been a regular centre-back for the team, and even assumed the captain's armband in the latter part of the season. His debut season in J1 saw him make 24 appearances and score three goals ? produced by headers unleashed from a strong muscular base. The fans and media chose him as Vegalta's player of the season.

On the pitch, Simao has sometimes cast his fierce glare upon opponents, while also intensely inspiring his teammates. I therefore wondered what kind of personality he is, and prepared questions that could be altered if the man from Mozambique turned out to be sullen or quiet.

That, however, was a needless concern. In November 2019, when we visited him at a Sendai clubhouse basking in warm sunshine, Simao was always smiling and as radiant as the sun overhead. The interview was supposed to be conducted with a Portuguese translator, but when I asked him, "Do you speak English?" he replied, "Yes, no problem at all! It's actually better for us to speak directly." He smiled brightly and gave the translator a wink as if to say, "It's fine".

Having left his home country in his teens, Simao played for Panathinaikos (Greece), Shandong Luneng (China), Levante (Spain), and Al Ahly (Qatar) before coming to Sendai in January 2019. Along the way, he has competed at the highest level, including the Champions League and La Liga. Why, then, did he choose Vegalta and the J-League?