2020.11.13
Mitchell Langerak enjoys the life in Japan. "hope My son will be a member of the Samurai Blue"
text by Yoichi Igawa
photo by Manabu Takahashi
Mitchell Langerak interview■Part 1■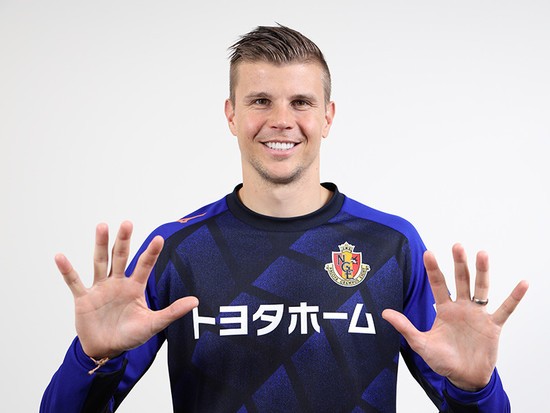 Mitchell Langerak playing for J1 club Nagoya Grampus After hearing of the contract renewal between Mitchell Langerak and Nagoya Grampus in December 2019, there must have been quite a few relieved fans of the club. Since joining in January 2018, the Australian goalkeeper had established himself as first choice between the posts and made many great saves for the team. Given the fact that Nagoya survived relegation battles in each of the last two seasons, they could now be aiming for promotion back to the first division if Langerak hadn't been there.

As this interview was taking place before the contract renewal Langerak's future was on hold, but he had to be fully focused on the final fixture of the season because Grampus still had a slight chance of relegation (Nagoya lost 1-0 to Kashima Antlers, but survived in 13th due to other results on the same day).

During the conversation, however, he talked cheerfully about his positive impressions of Japan and the J.League, so I was guessing he would extend his stay in this country.

"Everything is very clean and safe in Japan, and people are very polite and friendly," Langerak said cheerfully. "You can enjoy a quality life here, even foreigners like me because they are very kind to us. My family and I do enjoy life in Japan. We are very happy."

Langerak always talks loudly and honestly. No matter what he's asked, the frank and nice guy replies straightforwardly with what he likes or doesn't know. Regarding the reasons why he decided to come to Japan, he was similarly forthright.