2021.07.21
Yuzuru Hanyu thinks outside of the box and taking on difficult challenges.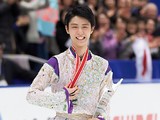 text by Toshimi Oriyama
photo by Sunao Noto(a presto)
He also explained the reason he was able to show such attractive steps.

"The last triple Axel was finely executed and I could spin nicely too, so everything went well in this performance."

The song for the short programme was "Ballade No.1 in G minor" which Hanyu used two seasons in a row. It had been, "A song to which I hadn't been able to perform flawlessly, and it was fun (to try that). But this time, I could finally perform from my heart with the melody of the piano, and I felt it was a fun programme in that sense". That meant he had shown a perfect performance at last.

After flashing a delighted smile, Hanyu said, "I need to refocus my mind for the free skate", which he did the next day.

Hanyu finely executed a quadruple toe loop + a triple toe loop in the latter half, which he had been struggling to achieve. He earned another record of 216.70 points, making a total of 322.40 points, becoming the first figure skater to exceed 300 points in total. He didn't only break the record but also people's fixed idea that a quadruple jump in the latter half was impossible.

At the Grand Prix Final the following week, Hanyu was expected to achieve a high score and shrugged the pressure off, completing a quadruple Salchow and a quadruple toe loop + triple toe loop in the short programme, scoring 110.95 points. His perfect performance carried on into the free skate, in which he earned 219.48 points. The total of 330.43 points was another record. Hanyu had mastered the new programme too.

Rousing his mind by taking on difficult challenges led to a great step forward. That is what Hanyu is truly made of.