2020.07.10
Jay Bothroid says, "Japanese football players should be more selfish to be strikers".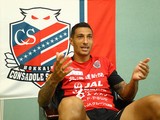 text by Yoichi Igawa
photo by Matsuoka Kenzaburo
For instance, Bothroyd missed several clear chances in the J1 match against Sanfrecce Hiroshima in August 2019, and Sapporo lost the game 1-0. After the match, television images captured him hanging his head at the bench, seemingly feeling guilty and showing that he felt responsibility.

But, having remained in the starting eleven, he scored a hat-trick in the following game against Shimizu S-Pulse, and including that hat-trick, he netted in three consecutive matches.

Also, after getting injured in the spring of the same year, Bothroyd was back amongst the starters for the J1 match at Kawasaki Frontale in June. After the game one journalist told him that, "Many fans are waiting for your goals!", to which he replied with smile, "No worries, I have always scored goals and always will." We felt his confidence in himself as a striker in that moment.

It would not, however, be easy for Japanese players to have this kind of mentality. In this society, if you make a mistake or fail at something, there are not many second chances. For example, if graduates miss opportunities at the bulk hiring of corporations it would then be difficult to find a proper job. Besides, in youth sports, there are still very rigid coaches who get angry at young players' mistakes, which means youngsters feel then feel afraid of making errors. That is what Fernando Torres saw in Japan and when he retired he said to young players, "Don't be afraid of mistakes".

Bothroyd acknowledges Japanese players' quality and said the only thing they are missing is a strong mentality.