2020.07.10
Jay Bothroid says, "Japanese football players should be more selfish to be strikers".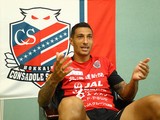 text by Yoichi Igawa
photo by Matsuoka Kenzaburo
However, there are not many prolific Japanese strikers in and the J-League or oversees. If you look at the scoring rankings, domestic strikers are usually low down on the list. The reasons for this are rooted in social and cultural factors.

"I think the Japanese are basically sharing people, unselfish people. That is why you have a fantastic society with many middle class people. But if strikers have a such mentality, it is difficult to succeed, because strikers are evaluated by the number of goals. In Europe, goalkeepers defend the goal, defenders break up opponents' attacks, midfielders and wingers create chances, and strikers score - there are responsibilities for each position. But in Japan, many think that if any player contributes for the team in any way, it is OK."

Then what do we need to do in order to produce top-level strikers in Japan? For Bothroyd, the main thing is mental strength.

"We have seen many good Japanese midfielders. There are also a lot of good wingers, fullbacks, and central midfielders. The likes of Takefusa Kubo, Takashi Inui, Makoto Hasebe, and Yuto Nagatomo have played in Europe and are quality players but they are not strikers. Given the fact that Japan has produced such good players, if you could change their mentality, especially in front of goal, good strikers could appear."

Strikers need to have a tough mentality as well as footballing ability - they have to want the ball even if they have missed many chances. That is exactly what Bothroyd embodies.